DISCLAIMER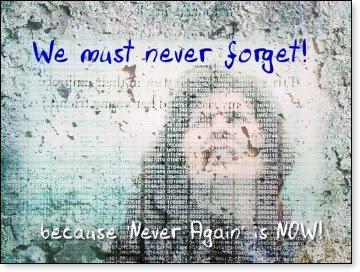 All photos that appear on the site NeverAgainIsNow.com are actual untouched photos    All the pictures belong to me and I have the full rights to all of them.
1. Donald Trump at his Long Island book signing I attended
2. Marines Tom Pridell (B'H) and Gene Simes, officers of the OFFE (Operation Firing For Effect),  picture taken by Debbie Pridell.
3. CA Department Commander, Native American, Enrique Rudino taken by Francisco Juarez  OFFE.
4. Ted Cruise picture taken by Susan Rosenbluth, Editor Jewish Voice and Opinion of NJ on a mission to Washington, DC
5.West End Republican Club of PA taken by a member
6. Actor John Voight picture taken by Gail Tenzer
7. Richard Allen Co-organizer, STOP IRAN RALLY 
8. Sheldon Adelson taken at ZOA meeting
9. Helen Friedman, Executive Director, Americans For a Safe Israel, UN Rally, taken
10. Stan Zir, Russian Dissident David Silberman, Inna Arolovich (Russian Jewish Federation) and Elie Weisel cousin, Les Weisel, taken by Buddy Macy.
11. Arieh Eldad, member of Knesset, taken with Bat Zion Susskind and Gail Tenzer in Israel
12. Glen & Tania Beck taken in Israel with Gail Tenzer and Bat Zion Susskind.
13. Pastor John Hagee, Christians United For Israel, taken in Israel with Bat Zion Susskind and Gail Tenzer
14. Ranaan Gissin, former senior advisor to PM Ariel Sharon taken in Israel by Gail Tenzer
15. Singer Actor Dudu Fisher taken in Israel with Bat Zion Susskind and Gail Tenzer
16. Robert Stearns, Eagle Wing Ministry at UN Rally
17. Holocaust Survivors of Riga taken by  a member
18. Holocaust Survivors of Brooklyn taken by a member
19. Family of Holocaust survivors at NY Holocaust Museum taken by Buddy Macy
20. Stan Zir and Sue Lowden of Las Vegas (Lt. Governor Candidate)
21. UN Rally Supporter
22. UN Rally Supporter
23. UN Rally Supporter
24. UN Rally Supporter – twins
25. UN Rally Supporter
26. UN Rally Supporters
27. UN Rally Supporters
28. Director Helen Freidman, AFSI at UN Rally & Cantor Charlie Bernhaut
29. UN Rally Supporter
30. UN Rally Supporter – Rabbi from Brooklyn
31. UN Rally - Robert Kuntz, Shalom International
32. ZOA Meeting attendee